We were thrilled to meet 300 friends in Prague at the IFBF last week and pleased to welcome many others online. Our conference reached some of the highest and lowest places in Prague: from a cocktail reception on the hotel's 24th floor, to underground boat trips touring Prague's old waste waterworks. In between we explored the successes and challenges of the flow battery world.
Mark Smith of US Vanadium told us about the production of the world's highest purity "Climate Smart Vanadium" electrolyte. Produced from secondary waste streams, pairing electrolyte production with electrolyte recycling and other vanadium chemical recycling, this also reduces landfill disposal. While many flow batteries use an all-vanadium system, we also discussed other chemistries. We heard about iron chrome, polyoxometalate, zinc-air, zinc-bromine, hydrogen bromide, iron vanadium, and several organic systems during our plenary sessions. Eugene Beh, from Quino Energy, explained how aqueous organic electrolytes could be produced locally using existing commercially available vanadium flow battery stacks: this revolutionary concept opens up the organic flow battery sector by simplifying the electrolyte production process.
During our packed and engaging poster session, our poster presenters described several other novel flow battery concepts. As ever, the speed pitches were both well done and well received, enticing other delegates to visit their specific posters.
Flow batteries can play a part in a power system infrastructure, but we also explored new and interesting applications for flow batteries in commercial and industrial settings. Michael Pinzl of CellCube continued our discussions on the use of flow batteries in the marine industry, using flow batteries on ships as an alternative to diesel propulsion. Arjun Bhattarai of VFlowTech announced a study to convert existing oil tank farms into vanadium battery tanks. Ingrid Røstad Brøndbo, Norwegian University of Science and Technology, explained how flow batteries could be used for long-term seasonal storage on farms and schools in Norway.
The water industry is a huge consumer of electricity, and Jean Louis Cols of Invinity described the installation of a flow battery at a wastewater plant in Scotland to optimise their power requirements. Summarising, his conclusion was simple "VFBs they work, there's no doubt about that". A statement that should enhearten everyone in the flow battery industry.
Wastewater was one of the reasons the IFBF travelled to Prague. Our hosts, Pinflow, have installed a flow battery at a wastewater treatment plant in Písek, Czechia, to balance energy consumption against local renewable generation. We could not travel as far as Písek, but instead went to Prague's Old Wastewater Treatment Plant. Here Pinflow's co-founder, Jiří Vrána, brought along a flow battery unit and gave a presentation on the use of energy storage in the water industry. This was followed by a tour of the historic building; a world-renowned example of exquisite, intact, industrial architecture dating from 1906 and in use until 1967. We saw the original boiler house and working steam engines, and explored underground, including a short boat trip along the sludge ponds and a walk back through the sewer pipes. Being underground was in stark contrast to C-Tech Innovation's networking reception held the previous evening on the 24th floor of the Corinthia Hotel with its beautiful views over the city.
One of the funny things about organising an annual conference like the IFBF is that you have to start thinking about next year's event before this year's event has even finished. In Prague we went one further, and we were delighted to announce that IFBF 2024 will be in Scotland, courtesy of Invinity. We hope this will include a tour of their manufacturing facility. It was a lovely, impromptu moment as Jiří of Pinflow handed over the IFBF flag to Larry Zulch, CEO of Invinity on stage. Keep the last week in June 2024 free please!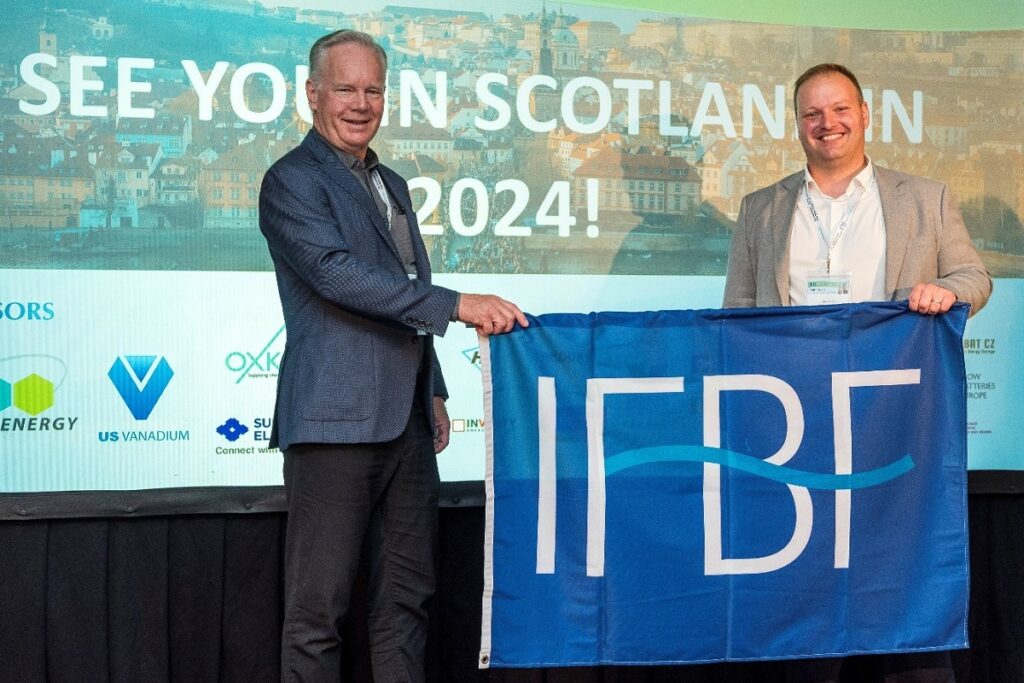 So, thank you to everyone that attended, especially the presenters, chairs, supporters, sponsors and exhibitors. The feedback forms confirm that IFBF 2023 was a great success, and we thank you for all your comments. Of course, we appreciate not everyone could attend and tickets are still available for our virtual platform. Here you can watch recordings of the sessions, access presenters' slides, download the book of conference papers, download a list of delegates, and view all the posters until Wednesday 20th September.
With best wishes,